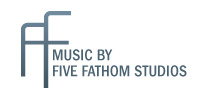 ---


mario vaira
Agency - Core Music Agency
mario@fivefathomstudios.com
778•898•6277
IMDb

Welcome to Five Fathom Studios, and the compositions of Mario Vaira.
An award-winning composer, songwriter, producer and multi-instrumentalist, Mario Vaira has had his music featured everywhere from halls and theatres to clubs and living rooms in most countries around the world. Whether composing dark orchestral scores, uplifting themes, or vibrant happy tunes, Mario strives to bring honestly and truth to his compositions.
Currently you can hear his full score for the new CBC series "Hello Goodbye", the Hallmark original series "Cedar Cove" starring Andie Macdowell, as well as other series for HGTV, Oprah Winfrey Network and the W Network, among others. His solo guitar score for "PostSecret: The Show" is being performed in national tours across the US, Canada and the UK over 2017-2018.
His works have been featured in many award winning productions including "Melting Stars" (Best Short Film, International Wildlife Film Festival), "Boar Attack" (Best Animated Short, Worldwide Short Film Festival), the OLN/NatGeo series "Word Travels" (Best Documentary Series nomination, Gemini Awards), and "Kodiak" (Portable Choice Award, Portable Film Festival). In the gaming world, Mario has scored pieces for Sega (Aliens: Colonial Marines), EA (NHL 2015), Square/Enix (Tiny Food Truck), THQ (Darksiders II, Company of Heroes 2, Metro: Last Light), Finger Food Studios, Action Pants/UbiSoft and Relic Entertainment, among others.

Another focus for Mario's career has been music for youth and children; larger projects include being the Feature Song Writer for LeapFrog's "Letter Factory Adventures" DVD series, and his ongoing work as sole producer and co-writer for the acclaimed musical duo Bobs & LoLo, including thier national TV series Sing, Dance & Play on Treehouse TV, (CORUS) and Action Packed (TELUS OPTIK). He's been credited four times with Juno nominations, (Children's Album of the Year), Western Canadian Music Awards and Parent's Choice Gold Medals, among other awards. Having shared the stage with Charlotte Diamond, Fred Penner, The Kerplunks and Norman Foote, Mario also produced Ginalina's "Home Is Family" (Juno Nomination, Children's Album of the Year, WCMA Children's Artist of the Year), and Will Stroet's "My Backyard" (Best Children's Album nomination, Western Canadian Music Awards), and "Walk & Roll".
As a songwriter, Mario has written with and for such artists as Bobs & LoLo, Shad, Kyprios, Vince Vaccaro, Carly Rae Jepsen, Mackenzie Porter, Will Stroet, Randy Ponzio, DNA6, Quest Poetics, and Carmen & Camille. Mario is also an active member of the Curriculum Advisory Committees for the Electronic Music Production Program & Singer/Songwriter Performance Program, both at Langara College in Vancouver, BC.
video samples: children's music & programming
(Playlist in top right)
video samples: television & film
(Playlist in top right)
video samples: games & cinematics
(Playlist in bottom bar)
accolades: commercial & artistic audio compositions

Bobs & LoLo - Seven albums co-written & produced by Mario Vaira
m.vaira: arrangments, guitars, bass, piano, percussion, audio design, etc.
• 2016 Juno Nomination - Children's Album of the Year (Drity Feet)
• 2015 Juno Nomination - Children's Album of the Year (Wave Your Antlers)
• 2012 Juno Nomination - Children's Album of the Year (Connecting The Dots)
• 2011 SOCAN Award - Children's Artist of the Year
• 2011 Western Canadian Music Award nominees for Outstanding Children's Recording of the Year
• 2010 Juno Nomination - Children's Album of the Year (Action Packed)
• Now appearing on Treehouse TV - a national children's television network
• 2009 Children's Recording of the Year, Western Canadian Music Awards
• 2009 Parents' Choice Gold Honors Award for the album "Action Packed"
• 2009 Canadian Indie Award nominees for Favourite Children's Artist
• 2008 Children's Web Award for On Your Feet DVD - Best DVD for Preschoolers
• 2008 Parents' Choice Award for On Your Feet DVD
• 2007 Parents' Choice Silver Honors Award for the album "Musical Adventures"
• 2007 Western Canadian Music Award nominees for Outstanding Children's Recording of the Year

Ginalina - "Home Is Family" produced by Mario Vaira
m.vaira: arrangments, guitars, bass, piano, percussion, audio design, etc.
• 2017 WCMA Children's Artist of the Year (Home Is Family)
• 2016 Juno Nomination - Children's Album of the Year (Home Is Family)

Melting Stars
m.vaira: composition/arrangment
• 2017 Best Short Film: International Wildlife Film Festival
• 2017 Offical Selection: Princeton Environmental Film Festival
• 2017 Offical Selection: American Conservation Film Festival
• 2017 Offical Selection: Wildlife Conservation Film Festival
• 2017 Offical Selection: Local Sightings Seattle
• 2017 Offical Selection: Northwestfest
• 2017 Offical Selection: Dances With Films
• 2017 Offical Selection: Tahoe Film Fest
• 2017 Offical Selection: Wildlife Film Festival Rotterdam
• 2017 Offical Selection: Green Screen International Wildlife Film Festival



Boar Attack (Animation by Jay White)
m.vaira: composition/arrangment, piano
• 2008 C.O.R.E Digital Pictures Award For Best Animated Short, Worldwide Short Film Festival
• 2008 Best Animation, KC Jubilee Film Festival
• 2007 Official Selection & Web Feature, Toronto Film Festival
• 2006 MITY (Made In The Yukon) Professional Award, Dawson Film Festival
• 2006 CBC Zed People's Choice Award, Dawson Film Festival



Kodiak - NineLight Pictures
m.vaira: compositions/arrangments, guitars, bass, piano, percussion, etc.
• Official Selection, 2007 Vancouver FF, 2008 Big Island FF, 2008 Nickel FF, 2008 PEIIFF
• 2008 Best World Short Category (nomination) International Film Festival UK – England
• 2008 Portable Choice Award winner, Portable Film Festival – Australia




For more information, please get in touch:
mario vaira
mario@fivefathomstudios.com

Ari Wise - Core Music Agency